Final Norfolk Court slab block bites the dust
|
Send to friend
May 9 2016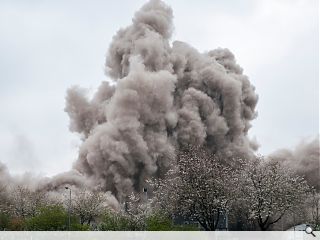 Dem Master has felled the final tower block in a
quartet of towers which once stood at Norfolk Court in Glasgow's Gorbals
, clearing the way for the construction of 201 homes by New Gorbals Housing Association.
The Sunday morning blowdown of the 24 storey building saw the 1970's landmark, which once contained 276 flats, reduced to rubble within seconds allowing a £24m regeneration project to proceed.
New Gorbals Housing Association chairperson Raymond Shannon commented: "Norfolk Court has been home to thousands of local residents since 1976 and is remembered fondly by many of those who lived there. Every tenant affected by demolition in Gorbals since 2002 has been rehoused here - if that is what they wished - and over 80% have chosen to remain in the Gorbals."
Then wider Laurieston district has been designated as a Transformational Regeneration Area by Glasgow City Council.
Images by Scottish Photography Productions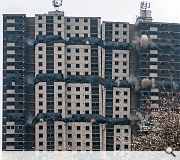 Locals were shaken by the 10:45 blast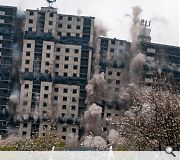 Work to regenerate the area can now proceed in earnest
Back to May 2016