Queen Street Station upgrade remains on track
April 21 2016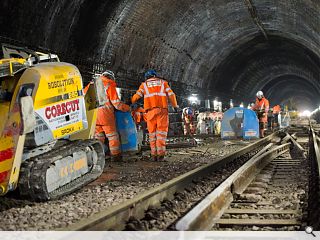 Work is proceeding apace deep within Glasgow's Queen Street Station rail tunnel to cut, drill and remove an existing concrete foundation slab to allow its replacement to be poured.
The work is proceeding in tandem with an upgrade to existing station platforms as part of a £60m project to upgrade track, junctions, platforms and layouts around the terminus.
Timetabled to run until 8 August the project will see 10,000 tonnes of debris removed from the 918m long tunnel; allowing overhead power lines to be squeezed inside for use by electrified rolling stock this December under the Edinburgh Glasgow Improvement Programme.
Phil Verster, managing director of the ScotRail Alliance, said: "The renewal of the track through Queen Street tunnel is a very complex and technically challenging project and our engineers are working around-the-clock to complete this vital work as quickly as possible for our passengers.
"The work we are doing in the tunnel combined with the electrification of key routes and the wider redevelopment of Queen Street station will deliver significant and ongoing benefits for our customers for decades to come."
Queen Street will be capable of handling trains of up to eight carriages on the main line between Glasgow and Edinburgh once work is completed.
Back to April 2016