Doors thrown open at Aberdeen mirrored pavilion
April 20 2016
Organisers of the Look Again visual art and design festival have opened the doors to a
mirrored pavilion on Aberdeen's Castlegate
designed to serve as an information and event hub for the Festival of Architecture.
Designed by RGU architecture student Lucy Fisher the 5x7m space takes the form of a wooden frame enveloped by thousands of resin squares designed to reflect historic architecture in the vicinity.
Catherine McKeown, president of Aberdeen Society of Architects said: "With its reflective skin, the pavilion has been designed cleverly to catch the attention of every passer-by and reflect the abundance of historical architecture in the Castlegate and surrounding area. The sparkling structure promises to create an energetic, festival vibe – and the events we have lined up for the Festival of Architecture are equally as impressive, with something for everyone."
The pavilion will be at the heart of the Look Again festival through to 2 May playing host to a series of workshops and pop-up showcases.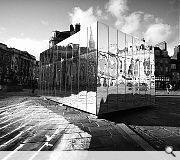 Photography by Fred Vasquez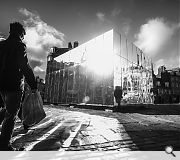 The pavilion a student design team comprising Fisher and fifth-year students Ruxandra Avram and Ross Robinson from RGU's Scott Sutherland School of Architecture and Built Environment - along with architects Covell Matthews and contractors Dab Den
Back to April 2016