83 student flats proposed for Craigmillar
April 19 2016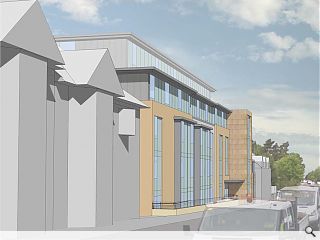 A disused office on Mayfield Road, Edinburgh, is to be demolished to allow development of
83 self-contained studio flats
for students designed by Kenneth Reid Architects.
Located close to the University of Edinburgh King's Building campus the scheme seeks to reinforce the existing streetscape opposite Craigmillar golf course by bridging gap in terraced properties to either side.
In their design statement the architects said: "The horizontal and vertical breaking up of the front elevation allows the building to relate well to its surroundings. The horizontal lines echo the neighbouring ridge and eaves height allowing the building to gracefully transition the change in street level. The vertical lines divide the facade into units similar in length to the terraced properties to the South picking up on the mirroring bay window configuration. It repeats this approach on the North end by replicating the pattern of the terraced housing and incorporating a unit of similar width matching through with the height of the ridge and eaves adjacent."
Faced in buff and off-white roughcast render and cast stone cladding the property will include a 'glass vertical feature' to denote transition to an existing terrace.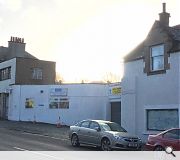 Existing substandard buildings will be demolished to make way for the scheme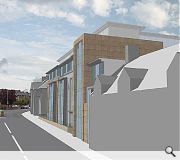 The student flats will rise opposite Craigmillar golf course
Back to April 2016