Milngavie farm steading set for housing conversion
April 15 2016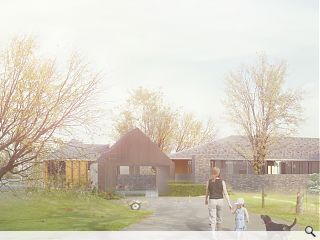 Elder & Cannon Architects have drawn up plans to convert and extend a farm steading in Milngavie, East Dunbartonshire, to form eight homes on behalf of Andrew Bell and Bankell Developments.
Historic buildings at
Bankell Farm
will be converted together with insertion of new build elements formed within the footprint of agricultural sheds.
In their design statement the architects observed: "The existing retained buildings are intended to be converted with minimal intrusion on their original outward appearance. The smaller number of newbuild elements are to be kept restrained, modest and sympathetic to the farm setting.
"The strength of the original farm courtyard setting is reinforced, and the impact of parking is reduced by use of integral car ports and a more careful distribution of the remaining parking requirement in smaller more natural pockets 'hidden' around the site.
"The new build elements have been used to allow a much improved control and potential use of open space of communal amenity, hard and soft courtyards, sheltered private gardens and hierarchy of routes and views to the surrounding landscape. "
These plans supercede an earlier application for the site by reorganising the layout to give greater to the historic buildings.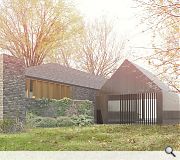 low quality industrial buildings will be swept aside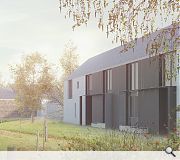 The design team are keen to avoid the appearance of suburbanisation
Back to April 2016