Urban Realm marks 25th edition
April 15 2016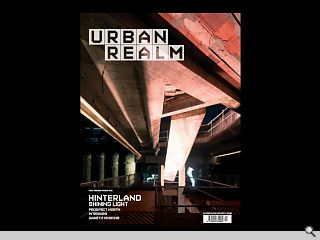 The latest edition of Urban Realm dovetails with the Festival of Architecture, which has got off to a sombre start with the untimely passing of two of the most respected architects in the field; Gareth Hoskins and Zaha Hadid.
Although very different in temperament and approach they both built a name for themselves; one by delivering radical new approaches the other by excelling at understated glamour. Whilst Hadid's passing came on our print deadline we pay tribute to Hoskins by speaking to those who knew him best.
Hinterland was chosen for the formal launch of the Festival calendar but whilst it succeeded in generating glowing reviews the hype generated by some electric photography didn't quite translate into the physical reality. A job of work remains to be done to make St Peter's relevant once more.
In tandem with this Mark Chalmers offers a fresh appraisal of some other concrete marvels, which haven't benefited from a spell in the the limelight to see how they stack up in the 21st century.
One structure which hasn't made it is the infamous Church Walk blocks in Denny, now subject to a feature length Carbuncle documentary. In many ways demolition is the easy part however as the town grapples with where it goes from here.
A key moment this summer will come at the Venice Architecture Biennale we delve deep behind the brief for Scotland's Prospect North contribution, an exhibition which promises to re-orientate all our compasses.
As ever good work continues to arrive independent of festivals and biennales and in this issue we take a look around one of the more interesting, Lairdsland Primary.
It is shaping up to be a momentous year and you can
follow it with us by subscribing
.
Back to April 2016