£3.6m Holyrood Park distillery moves ahead
April 11 2016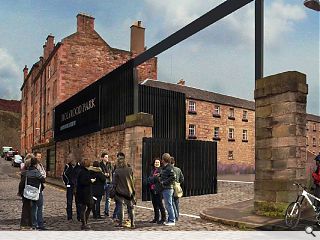 7N Architects have brought forward plans to
transform a former engine shed at St Leonard's Lane, Edinburgh
, overhauling the former warehouse into a distillery and visitor centre.
The £3.6m project is the brainchild of David Robertson, former master distiller for the Macallan and would result in the city gaining its first single malt whisky distillery since the last closed its doors back in the 1920s.
This will see the external fabric of the listed building retained whilst the interior space is reconfigured with new openings.
Commenting on their design approach 7N wrote: "The new gatehouse and canopy structure are clearly expressed as new, contemporary, elements, which complement the materiality of the context whilst taking reference from the additive dark timber structures which were appended to the main Engine Shed building in the 19th and early 20th century.
"These new structures combine with the existing Engine Shed building to create a composition of new and old elements which provide a sense of definition and enclosure to the courtyard space whilst enhancing the experience of arrival and the entrance to the building. The canopy will also function as a shelter for outdoor events and gatherings which will enliven the courtyard."
Subject to approval the new distillery could be operational by 2017.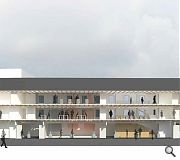 new openings will be punched through a secondary6 timber floor
Back to April 2016