£41m Edinburgh Gateway railway station takes shape
April 4 2016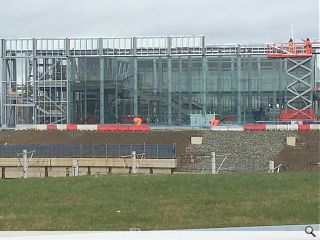 Work to deliver Edinburgh's newest railway station, a £41m halt at Gogarburn, is proceeding apace with twin 265m long platforms capable of handling ten car trains beginning to emerge.
Edinburgh Gateway Station, designed by IDP Architects, is scheduled for completion in December, enabling passengers from the north and Fife to access to access the airport and tram network.
Part of the Edinburgh-Glasgow Improvement programme the project will also include connections to the Gyle Centre via a new underpass alongside improvements to the Gogar roundabout.
The new station is being delivered by Balfour Beatty and Lakesmere and takes the form of a steel frame sheathed in Econic boards manufactured by Duncryne.
IDP previously delivered a revamp of
Haymarket Station
.
Back to April 2016