Dollar Academy languages building officially opened
April 4 2016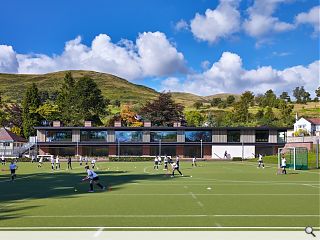 A Page\Park designed
languages building at Dollar Academy
has been officially opened offering ten additional classrooms with south facing views over hockey pitches at the foot of the Ochil Hills.
The Westwater building, named after a former pupil who died during the First World War battle at Galipoli, is naturally ventilated via chimneys and sits under a canted roof.
In a design statement the architects observed: "Accommodating 10 new classrooms, five on each floor, the lower of which are expressed within a weighty, solid brick plinth, with the remainder occupying a lighter glazed viewing pavilion floating above.
"Circulation through the building on both levels is orientated to the south, animating the more public external façade with wide corridors on the upper level acting as a viewing gallery out towards the striking grounds and on the lower level a loggia to the circulation route around the hockey pitch. In this way the building whilst accommodating teaching functions also performs in the abstract as a stadium structure to the overlooked sports setting."
A covered gallery at ground floor level is protected from the elements by a glazed cantilevered walkway above, which also allows light into lower classrooms set into the terraced hillside.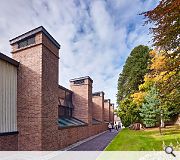 Classrooms are naturally ventilated by a series of brick chimmneys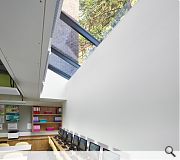 Lower classrooms are illuminated via rooflights
Back to April 2016