Bennetts Associates has received planning for Glasgow's iconic Citizens Theatre
|
Send to friend
March 22 2016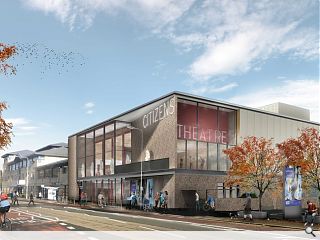 Citizens Theatre has been awarded planning permission for the
most significant upgrade of the theatre building in its 135 year history
, securing its future as one of the country's outstanding producing theatres.
The theatre's heritage – which includes a Victorian auditorium and the most complete original stage machinery in the UK - is at the centre of Bennetts Associates' design for a radical re-working of the Citizens Theatre building.
During the redevelopment project, improvements will be made to the historic parts of the building, twentieth-century additions which are no longer fit for purpose will be removed, and new spaces, including a new foyer, café, learning and rehearsal studios, and an administration hub will be created.Actors' facilities, backstage areas and construction workshops will be improved through reorganisation and refurbishment, whilst public access will extend further into the building where the public can see the inner workings of the theatre and its heritage. Accessibility around the whole building will be improved with lift access to all levels while public viewing windows will highlight the building's historic machinery and the auditorium, making them visible to all visitors to the theatre. The exterior identity on Gorbals Street will be transformed with original statues of Shakespeare, Burns and the four Muses from the roof of the 1878 building, adorning the new façade and framing a view to the stone gable of the auditorium.
Alasdair Gordon, Associate Director at Bennetts Associates said "We are really pleased with the planning decision. Public support for the project was fantastic, and there is strong vision to create a building that reaffirms people's pride in the Citizens Theatre. We look forward to working with the Citizens to deliver this project." 

Judith Kilvington, Citizens Theatre Executive Director – Joint Chief Executive, said "We are delighted to have been granted planning permission for a redeveloped Citizens Theatre. We are passionate about being an inclusive organisation that breaks down barriers to participation but the building in which we currently operate is no longer fit for purpose. Our vision for the future of our building is that will be able to engage with every aspect of our programme, heritage and history, and that we will provide improved working conditions for artists, participants and staff."
The Citz, as it is affectionately known, is one of Scotland's oldest and best-loved theatres and launched the careers of actors such as Stanley Baxter, Bill Paterson, Rupert Everett, Gary Oldman, Glenda Jackson, Helen Baxendale, Alan Rickman and David Hayman amongst many others.
Back to March 2016