Falkirk Council pitches 'gateway' urban quarter to investors
March 17 2016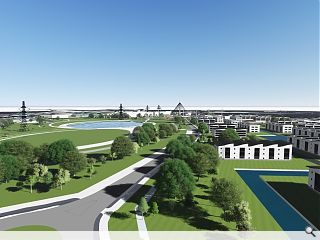 Falkirk could be recipient of a new urban quarter after the local council unveiled a Tax Incremental Finance initiative for £17m of infrastructure works on 376 acres of land at the town's eastern edge.
Drawn up by Falkirk Council's development services team the land will be prepped to support development, enable traffic flow and attract inward investment.
This work will include the UK's first circular, elevated pedestrian and cycle crossing alongside creation of new waterways along landscaped pedestrian paths to provide a sustainable form of drainage.
Identified as a suitable site for a mix of business, education and leisure uses the quarter would straddle Falkirk Community Stadium, a proposed Forth Valley College campus and Helix Park.
Falkirk Council leader Craig Martin said: "Through the Falkirk Tax Incremental Finance initiative, we have the lever to prepare the site for development and create the connections needed to support expected traffic flow and footfall."
Work on the proposed quarter is expected to get underway in 2017.
The new quarter will adjoin Helix Park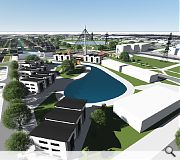 The UK's first circular pedestrian and cycle bridge will rise above the road network
Back to March 2016