Page\Park complete Titan Enterprise Centre in Clydebank
April 1 2008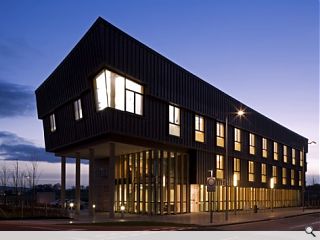 Page\Park has completed work on the Titan Enterprise Centre at the former site of the former John Brown Shipyard at Queens Quays in Clydebank.
The Glasgow-based practice was commissioned by Clydebank Rebuilt in 2003 to develop a masterplan for the regeneration of the 80 acre brownfield development site, adjacent to the River Clyde. The 2,250 sq m Centre is the second project to be completed in accordance with this masterplan, with the remaining space due to be developed in stages by both private and public developers.
The building was designed with Clydebank's shipbuilding history in mind; the northern section of the building is clad in copper and flaring cantilevered steps in the slabs at each level are reminiscent of a ships hull. The roofline also rises above the length of the elevation into a prow at the eastern end of the building.
The managing director of Clydebank Rebuilt, Eleanor McAllister, said: "The completion of the Titan Enterprise Centre marks the start of the real regeneration of Queens Quays and highlights the quality of the design we now expect on this important site on the Clyde. Thanks to the masterplan we are opening up the riverside to the people of Clydebank, businesses, students and visitors and we are looking forward to more developments in 2008."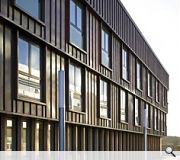 Photography by Keith Hunter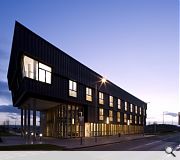 Photography by Keith Hunter
Back to April 2008