Glasgow's Skypark strikes out west for latest expansion
|
Send to friend
March 7 2016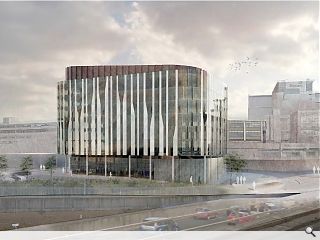 Glasgow's Skypark business hub is set for further growth following submission of plans by Sheppard Robson for
150,000sq/ft of grade A office space
on the site of a disused office building on Finnieston Street.
Skypark 7 will be faced with a sine 'wave' like glazed curtain wall system embedded with light green and blue aluminium panels with on-site parking included in land to the west.
In a design statement the architects observed: "The building has a subtle variation between solid to glazed void. This proportion of solid to void on the facades addressing environmental aspects, views and orientation. All elevation façade will have approx. 50 per cent glazing to 50% insulated solid ratio around the building.
"The ratio of more glazing at the corners and upper floors takes advantage of the panoramic view from Skypark 7 in all directions, but particularly due south west.
"A continuity of rhythm and proportion is generated from a 1.5m planning grid and applied throughout the building façade."
An amenity space to the south will feature concrete benches, trees and grassed landscaping with stainless steel bollards defining the edge between public path and the office environment.
Sheppard Robson has also drawn up plans for the Azure building, a
135,000sq/ft build to the east of the Skypark complex
.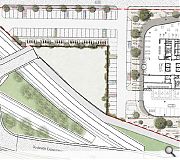 An active frontage is prroposed along Finnieston Street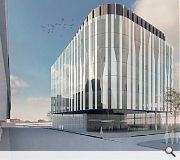 Glazing has been considered to maximise views and light
Back to March 2016