Scotframe showcase glassy Aberdeenshire home
January 27 2016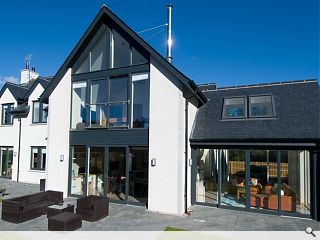 Timber kit manufacturer Scotframe has showcased their latest residential completion in the form of the O'Grady home, one of seven individually designed homes at Daviot, Aberdeenshire.
Designed by Ian Duncan Architects the house is defined by a central glazed section rising to the full two and a half storeys, allowing the main living area to be surrounded on three sides by windows as well as the roof.
Making use of factory injected timber panels for the ceilings and floors the timber framed property has sufficient strength to avoid the need for roof trusses, allowing 12 foot high bedrooms ceilings to reach through the attic.
Courtney O'Grady commented: "We worked with locally-based architect Ian Duncan, also based in Inverurie, who helped lay out the positions of the homes on the site and also helped design our house. The brief was our wish-list of the essential elements we wanted - light, space and warmth."
Five homes on the estate have now been completed with the O'Grady's home taking just eight months to complete.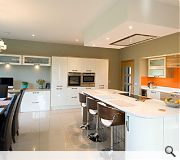 Expansive views to the Bennachie hills are offered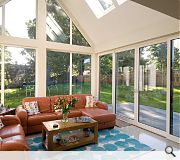 The well insulated home boasts high standards of energy efficiency and air tightness
Back to January 2016