Carbon steel King's Cross footbridge showcased
January 27 2016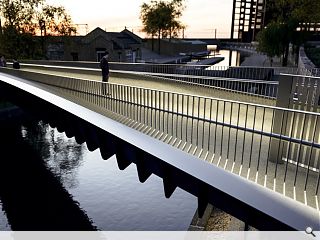 Moxon Architects have unveiled plans for a pedestrian footbridge across Regent's Canal, London, to improve connectivity through the newly formed Gas Holder Park between King's Cross and Camley Street.
The 38m span bridge has been designed as a simple U-shaped horizontal beam supported at abutments either end to respect the surrounding industrial architecture.
Formed from a single span of steel the hockey stick shaped bridge incorporates a curved ramp at one end to help bridge level differences whilst leaving sufficient air draught for canal boats to pass and maximise through views.
In their design statement Moxon said: "The structural concept for the main span is one of extreme simplicity and this approach has been maintained throughout the design of all aspects of the scheme. The bridge itself comprises one element in carbon steel for the deck and spanning structure, an element in stainless steel for the parapet and finally the cast carbon steel TMD at centrespan.
"All connections on the bridge that a user will come into contact with will be fully welded, such that the experience is one of a seamless sculptural object. All edges and arises on the parapet and primary steel structure will be ground smooth such that there will be no sharp edges on the bridge."
Finished in dark anthracite paint the bridge will be laid with a warm resin bonded aggregate path and polished handrails to merge with surrounding public realm.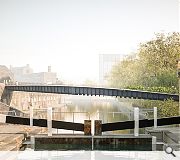 A tuned mass damper will be built in to avert any wobbly bridge fiascos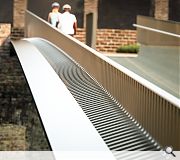 The bridge has been conceived as an extension to Gas Holder Park
Back to January 2016