Cumbernauld Academy given go-ahead in final tranche of school's funding
January 26 2016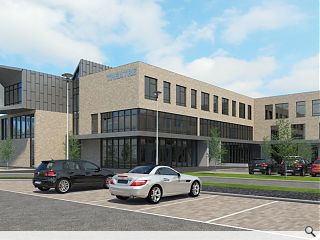 Cumbernauld Academy and Theatre
has been given the go-ahead after receiving Scottish government funding in a final tranche of 19 schools to be awarded cash for rebuild or refurbishment.
£230m of public money will be released to complete the fourth and final phase of the School's for the Future programme, amongst the most significant of which is Cumbernauld Academy.
Here Archial Norr has been commissioned to build a new campus on the site of the existing school which will also include a new theatre and performance space.
Adopting a 'C' shaped plan enclosing a public square the campus includes triple height social spaces and an external courtyard with school accommodation cantilevering over the two storey dance workshop to create a visual marker for the main point of entry.
In their design statement the practice observed: "The main school block runs north-south down the eastern edge of the site. The theatre accommodation is located on the ground and first floor levels of the northern wing which runs parallel to Kildrum Road. School accommodation wraps over the top of the northern wing. The sports facilities are housed in the southern wing, adjacent to the sports pitches which are located to the south."
Completion of the new campus is expected by 2020.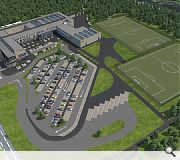 The new school has been necessitated by the merger of Cumbernauld and Abronhill High's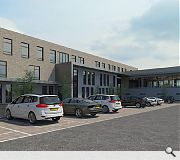 The new school will be clad in buff brick, concrete panels and metal
Back to January 2016