South Lanarkshire College shortlisted for 2016 BREEAM Award
January 20 2016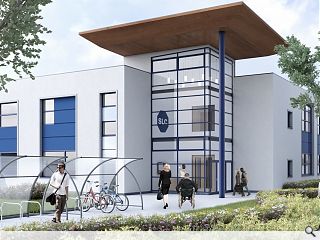 Austin-Smith:Lord's South Lanarkshire College low carbon teaching building has been nominated for a 2016 BREEAM Award courtesy of its low energy and waste standards to the health and well-being of its occupants.
Developed in partnership with BRE, Will Rudd Davidson and Cundall the highly insulated design features triple glazing, low energy fittings, a ground floor heat pump and photovoltaic array to ensure that the energy needed to run the building can be fully met by renewable sources.
Lead architect Catherine Cosgrove said: "Our brief from South Lanarkshire College was a very simple one – to design a new eight classroom teaching building that achieved a BREEAM Outstanding rating. Construction is one of the three main departments within the college and the client team wanted to experience every part of the design and construction of a low energy building. They intended to use the process as part of their teaching curriculum, something that worked well for them previously when they built a low energy exemplar house on the campus.
"Particular attention was paid to planning methods of post occupancy evaluation. Not only is this monitoring a requirement of the BREEAM "Outstanding" target but it can also be integrated into the construction curriculum. The intention is that the students will play an ongoing role in monitoring and assessing the performance of the building throughout its life."
Elsewhere innovative solar chimneys provide ventilation with rainwater harvested for low water usage flushing toilets.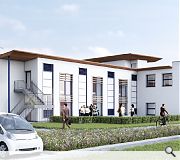 The low carbon teaching college has a zero net energy footprint
Back to January 2016