University of St Andrews to build UK's most hi-tech aquarium
January 18 2016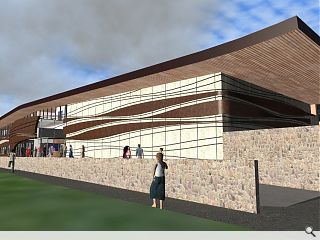 The University of St Andrews has submitted a planning application to build a
£10m marine laboratory at East Sands, St Andrews
.
Replacing the Gatty Marine facility the new laboratory has been designed by BMJ to include 2,256sq/m of research space including the UK's most technologically advanced aquarium to investigate the oceanic effects of climate change and bolster conservation efforts.
The 'smart' aquarium will be equipped with dynamic monitoring and control of temperature, lighting, pH, oxygen, salinity, ammonia and nitrate levels with culture experiments supplied with running seawater.
Professor Garry Taylor, acting principal at St Andrews, said, "The rebuilding of the Gatty is a high priority in our strategic plan. Marine research has taken place here for over 100 years, but its potential has now substantially outgrown the reality of its present facilities.
"By investing in a new state of the art facility, we are investing in the highest quality of international marine research and the reputation of St Andrews and Scotland as leaders and pioneers in this increasingly important branch of science."
A public outreach centre will be included in the plans
Back to January 2016