Work to get underway on £12m Largs sports centre
January 6 2016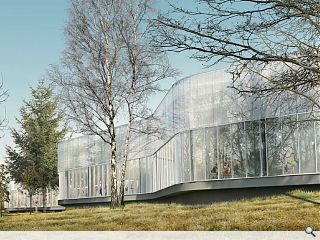 Work to deliver a £12m upgrade of
Sport Scotland's National Centre Inverclyde
is to get underway this month after the project was given the go ahead by North Ayrshire Council.
Designed by Reiach & Hall Architects the project will entail selective demolition and expansion of facilities to bring all accommodation under one roof, connected by a 'gymnasts ribbon' circulation space linking gymnasiums, a conference hall, café and bar with a 120 bed accommodation block stacked above.
In their design statement the practice said: "The new sports facilities are placed in front of the existing and the new bedroom wing and hotel will be moved to a location adjacent to the existing games hall - helping to create a compact new building that minimises travel distances. A ribbon facade will mask the existing low grade facades and tie the scheme together.
The ribbon facade avoids and weaves a path through the trees and provides a new face to the National Centre as well as an endless variety of views out to the landscape."
Clad in glass curtain walling, metal composite panels and polycarbonate the centre will be ready for occupation by March 2017.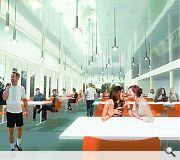 Burnside House will make way for new level sports spaces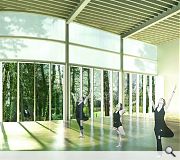 The centre will accommodate large numbers of para sports players for the first time
Back to January 2016