Eight crumbling churches share in £1.55m Lottery windfall
December 17 2015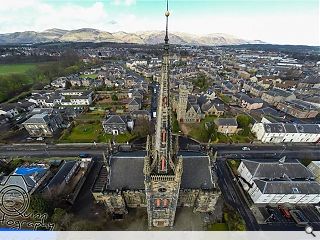 Seven churches and a cathedral are to share in a £1.55m Heritage Lottery Fund and Historic Environment Scotland grant to carry out essential repairs in addition to financing a series of historical studies for the benefit of local communities and visitors.
Amongst those to benefit from new cash is St Anne's Epicopal Church in Dunbar which will receive £162k to repair an interior roof modelled on the hull of a boat. St Michael's Church in Inveresk will also benefit, netting £228k to repair its particularly graceful spire, which was once used as a navigational aid for ships sailing up the Firth of Forth.
Lucy Casot, head of the Heritage Lottery Fund, said: "Scotland's amazing array of churches provide a focus for many community activities particularly at this time of year. HLF is delighted that, working in partnership with the Historic Environment Scotland, we are able to help these congregations secure the future of their buildings. Not only will they be wind and water tight but activities and events will reach out to new generations encouraging many more through their doors."
The six other places of worship in line for a makeover are Shettleston New Church of Scotland, Glasgow - £235,200; Paisley Central Methodist Hall - £228,600; St Mungo's Parish Church, Alloa - £248,000; St Ninian's Cathedral, Perth - £241,600; St Mary's Parish Church, Kirkintilloch - £203,000 and St Ninian's Episcopal Church, Glen Urquhart - £243,400.
Back to December 2015