Royal High School hotel backers cite new poll indicating overwhelming public support
November 27 2015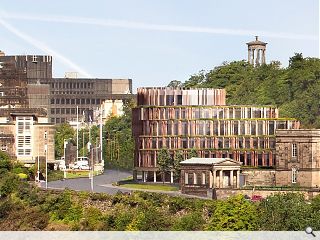 Developers behind a £75m hotel development at Edinburgh's historic
Royal High School
are claiming public backing for the project following a survey of local residents.
A total of 5,000 people across 12 city wards were quizzed on the plans, the fourth such consultation to be carried out since the project began, with 93 per cent agreed that a hotel was a suitable end-use and 92 per cent backing the proposed Hoskins Architects design.
When asked whether the proposal would have a positive or neutral impact on Edinburgh's world heritage status support dropped to 78 per cent.
In their report Scott Porter Research & Marketing wrote: "The Ward consultation shows the vast majority are in favour of the development, with only a very small minority not in favour in each Ward. Results are consistent across all Wards and mirror the positive results of the previous phases. They demonstrate a clear and unambiguous picture. There is also only a small minority in each Ward who feel that the proposal would produce a negative effect on Edinburgh's World Heritage Status, indicating that this is not seen as an issue."
Duddingston House Properties and Urbanist Hotels propose to restore the former Royal High School and in doing so turn it into a Rosewood Hotel whilst maintaining public ownership through a long-term lease with Edinburgh City Council.
Back to November 2015