Maryhill School set for residential conversion
November 26 2015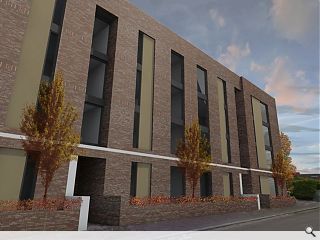 A former public school in Maryhill, Glasgow, is to be converted to form 29 flats with a further 56 homes built in the grounds under plans penned by Spectrum Properties and Jewitt and Wilkie Architects.
Shakespeare Street Public School itself will be sensitively restored with the playground landscaped to form resident's gardens. Nearby waste ground will also be built upon for the tenement style new build element.
In their design statement the architects observed: "Both blocks sit to the outermost edge of the site so as to maintain the setting of Shakespeare Street School whilst increasing the residential density of the site. This also frees up the centre of the site for a landscaped garden amenity.
"A dark red/brown brick is proposed with relief brought to the elevation in the form of recesses to the elevation signifying the entrance. The rigorous rhythm of window openings reflects that of the traditional tenement context with a string coursing and entrance signage zone picked out in precast concrete. Finally to either end of the proposed the elevation steps forward and up to signify a termination to the terrace."
Spectrum Properties are also undertaking a similar conversion of the
B-listed Dalmarnock School
.
New builds are set back to maintain the prominenece of the school's Shakespeare Street frontage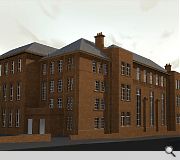 The 1915 main school building will be sensitively restored
Back to November 2015