Momentum builds behind M74 sports sculpture park
October 8 2015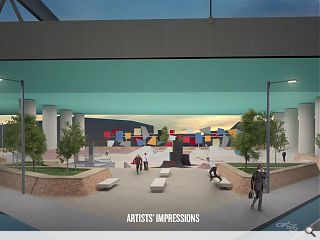 Glasgow Urban Sports, the charity behind plans to build a
sports sculpture park
beneath the undercroft of the M74 at Port Eglinton, have released a new film documenting the rationale behind their idea for a new urban public space.
In the film lead designer Toby Paterson says: "The plan for the skate park is really driven by the desirte to reuse this otherwise unusable space to try and construct a landmark that will function as a new piece of public space. Driving the idea behind this is a vision for urban sports such as BMX, skateboarding and free running."
Project artist Raydale Dower added: "We're looking at this with skateboarders eyes, we're also looking at it with the interests we have with space or sculptural form and the way that you can use those spaces. BMX and free running are inventive in the way they use space, that's at the core of what we're looking at."
GUS M74 Skatepark from NorthColour Films on Vimeo.
Utilising the road surface as a ready-made umbrella for a new urban skate park the scheme has been drawn up in collaboration with Keppie Design. Conversations with public bodies and politicians to make the park a reality continue to take place.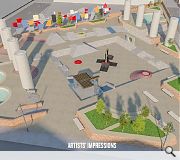 benches will double as seating and skateboard obstacles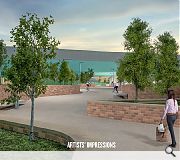 The plans would return a void in the city back to productive public use
Back to October 2015