Sauchiehall Street welcomes Glasgow's first 'parklet'
October 8 2015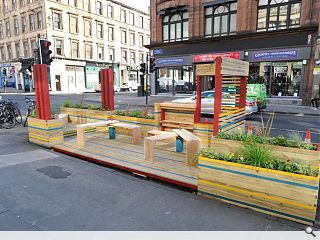 Sauchiehall Street has become home to Glasgow's first 'parklet', a pocket roadside installation designed to encourage passersby to linger by reclaiming a portion of the road from vehicles.
Built by ice Cream Architecture in collaboration with the Centre for Contemporary Arts the wooden pavilion incorporates seating, greenery, a removable canopy and information boards with a temporary tree adding some much-needed greenery to the area.
Using reclaimed timber from the city's parks where possible the structure will be open to the public for a one month trial when its success or failure will be assessed by Glasgow City Council.
Bailie Liz Cameron, executive member for jobs and the economy at Glasgow City Council, said: "The idea of parklets in Glasgow city centre has a lot of potential, and these pilot projects could play their part in the regeneration of the Sauchiehall District. The parklet at CCA could be a new way to attract people to the city centre."
The scheme forms part of the council's master plan for the
Sauchiehall District
Back to October 2015