Crumbling Glasgow office tower set for student housing transformation
October 7 2015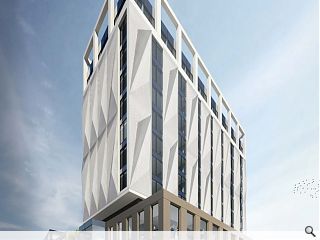 An abandoned office tower in Glasgow city centre could offer a home to hundreds of students following the
submission of proposals by 3D Reid Architects
to transform the crumbling structure into modern accommodation.
A planned metamorphosis of Pegasus House would see the existing podium activated with full-height glazing and the addition of a sculptural stair core and 'residential scale' fenestration to the plinth.
A modular 'skin' would then be wrapped around the tower above and extended by a new rooftop overrun to create a new 'object' in the cityscape. This façade would be sculpted to provide depth to the skin using white powder coated perforated profiled metal and sandstone colour pre-cast concrete panels.
In their design statement 3DReid remarked: "The removal of the existing 1960-1970's concrete panel façade and its replacement with a solid sandstone colour pre-cast concrete frame to the base that steps down the hill creates a clean, modern finish that also references the traditional and historical design and materiality of the surrounding buildings.
"The replacement upper façade panels to the tower element take reference from the existing panel form and from it create a modern alternative that will revitalise the current design. The spatial planning of the proposal arranges the amenity facilities along the street level at ground floor along West George Street and lower ground floor along Holland Street to provide 'shop-front' style activation, something which the existing offices at these areas lack at present."
The completed project would offer 213 bedroom spaces within the existing volume in addition to an amenity space on top of the revamped podium.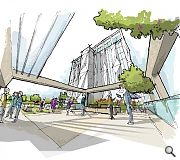 Residents will benefit from access to a new roof garden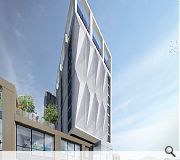 The existing office accommodation is described as no longer fit for purpose
Back to October 2015