Art Deco Glasgow cinema foyer to be reborn
October 6 2015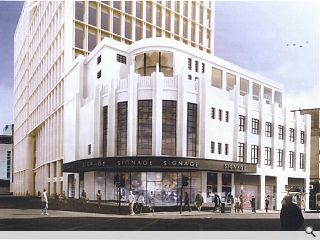 Ryder Architecture has submitted plans on behalf of Carrick Properties to
revitalise the Art Deco foyer of the former Odeon building
on Renfield Street, Glasgow, to create new ground floor retail units with office space above.
Extensive renovation works will see the existing canopy replaced with a new version to match the proportions of the 1930's original, together with new window openings at upper level and the addition of a roof terrace.
Further work will see extensive stonework repair and cleaning carried out together with the installation of new glass entrance doors.
Carrick House purchased the building in May from Duddingston House, replacing earlier proposals to create a new leisure destination within the shell of the listed building.
Back to October 2015