Zaha Hadid picks up RIBA Gold Medal 2016
September 24 2015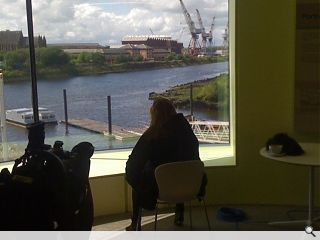 Dame Zaha Hadid has become the first woman to receive a RIBA Gold Medal after being honoured last night for her 'dynamic and innovative' projects by the architect's body.
The Iraqi born architect has risen to prominence in recent years on the back of an embrace of cutting edge software and technologies together with an appreciation of landscape and geology.
This work includes MAXXI: Italian National Museum of 21st Century Arts in Rome (2009), the London Aquatics Centre for the 2012 Olympic Games (2011) and
Glasgow's Transport Museum (2011
.
Commenting on sexism within the industry Hadid said work still needed to be done, despite her win: "We now see more established female architects all the time. That doesn't mean it's easy. Sometimes the challenges are immense. There has been tremendous change over recent years and we will continue this progress."
Buoyed by this success Hadid expressed exasperation during a BBC Today interview which focussed on recent controversies surrounding the alleged deaths of site workers building the Qatar World Cup stadium and the cancellation of the Tokyo Olympic stadium.
Hadid retorted: "It is absolutely untrue; there are no deaths on our site whatsoever. I sued someone in the press for it. You should check your facts."
When interrupted during a line of questioning relating to the circumstances surrounding cancellation of the Tokyo stadium Hadid stormed off, saying: "Don't ask me a question if you don't want [me] to answer. Let's stop this conversation right now."
Zaha Hadid Architects was founded in London back in 1979.
Back to September 2015