#AmeetsA 2015 charity exhibition opens
September 7 2015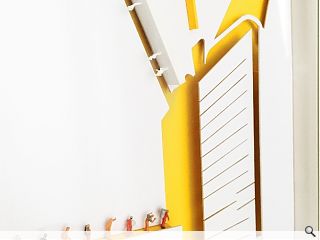 A Scotland re-invented themed art and architecture exhibition 'architecture meets art' gets underway today at the Upper Circle of Glasgow's Theatre Royal until Wednesday.
#AmeetsA 2015 will see bespoke works specially created by a cast of talented artists whose works will be auctioned after the exhibition closes to raise funds for Enable Scotland at a Gala Dinner in the city's Corinthian Club on September 10 hosted by one of the UK's most successful female comedians, Jo Caulfield.
The
second edition of #AmeetsA
asked artists to imagine: 'What would the Riverside Museum look like if you had designed it? What would George Square look like if you were in charge of the Council's decisions? How would the Edinburgh castle look like if you had been Mary Queen of Scots?'
Event creator Sara Seravalli, founder of arts and architecture events firm Double S Events, said: "After the overwhelming success last year with the participation of more than 20 very talented individuals we raised £20k for Enable Scotland. This year we asked even more participants to get involved and create something unique once again, this time inspired by the many extraordinary buildings, squares, monuments and corners that populate Scotland."
Amongst those participating in this year's event are Bespoke Atelier, Briggs & Cole, David Gardner, Marion Gardyne, Isabel and Clara Garriga, Anna Gibb + Holo, Giorgio Granozio, David Mach, Tom Manley, Lauren Li Porter and Christine Thomson.
Fife based sculptor and installation artist David Mach said: "What if global warming came to Scotland and gave us a tropical climate? Imagine how nice that would be. What if we put the Nor Loch back into Edinburgh and you could swim or fish below the castle or if it was a naturist paradise?
"In the five collages I'm presenting, I've just turned the temperature up a bit."
Architect and artist Anna Gibb meanwhile is showcasing her highly detailed, idiosyncratic urban landscape postcards whilst sisters Isabel and Clara Garriga, who practice together at architects Holmes Miller, will donate their striking Homo Arkitect_US piece for the event. Their colleague David Gardner, Design Director at the practice, has donated a stark graphic reimagining of Glasgow's maze of city streets.
A limited number of tickets are
still available for the gala dinner
.


Main image depicts Clara & Isabel Garriga's Homo Arkitekt_US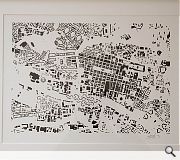 David Gardner has submitted this alternative map of Glasgow city centre
David Mach has created a number of colages postulating the impact of a warming climate
Back to September 2015