Rest And Be Thankful visitor centre backed by Jackie Stewart
August 20 2015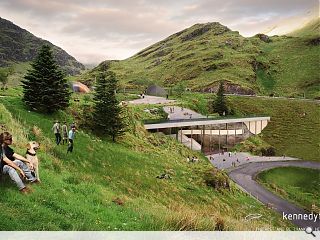 Plans to build a build a visitor centre on the old Military Road at the Rest and Be Thankful have been fueled by the backing of motorsport champion Sir Jackie Stewart, who used to race a number of hill climb events on the route staged by the Royal Scottish Automobile Club.
The treacherous pass was a popular event in the race calendar in the sixties owing to its 400ft gradient and hairpin bends but gradually lost its appeal in the seventies as the road surface deteriorated.
The scheme is the brainchild of Douglas Anderson who has unveiled plans drawn up by KennedyTwaddle Architectural Design to carve out a sympathetic exhibition space within the contours of the hillside, encouraging passing tourists to stop off on route to Glen Coe.
Anderson commented: "The building will be a multi-use facility which could be used by the local community for film, business and cultural events and there will also be retail and a restaurant area."
Designer Gary Kennedy added: "We wanted it to be sympathetic to its context but we also wanted to frame the view and accentuate the natural amphitheatre of the valley. We feel it is subtly quiet but also visually exciting."
The Rest and Be Thankful Heritage Project - Kennedytwaddle from Kennedy Twaddle on Vimeo.
Support is currently being sought for feasibility funding to progress the scheme.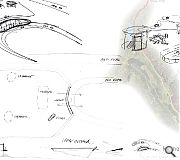 Access will be possible from an stop off point from the new road at the top of the pass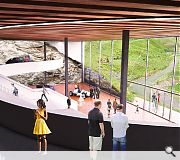 The hillside centre would play host to a garage of historic vehicles
Back to August 2015