Lamb's House restoration plans go before Edinburgh council
February 13 2008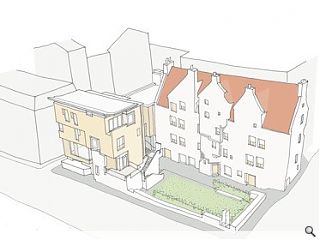 Final plans for the restoration of Lamb's House in Leith have been submitted to City of Edinburgh Council for approval.
The EDI Group will head up the project, working closely with building owners the National Trust for Scotland and Cadell Wiszniewski Thomson architects.
The A-listed seventeenth century building is to be restored to its original use as housing, with plans including a total of nine residential units, together with an office suite, on-site car parking, a landscaped public courtyard and panels charting the building's history.
The turn-pike stair will also be returned to use and much of the building's interiors, such as fireplaces, exposed joisted ceilings and ceiling panels, are to be conserved. A new building, set at right angels to the building, is also included in the proposals reinstating views down Waters Close to the Shore and reviving some of the building's original setting.
John Mark Di Ciacca, EDI's director of development, said: "EDI wants to see historic Edinburgh sites being enjoyed by the public and conserved for future generations. Lamb's House is an iconic grade A-listed building of national importance. This refurbishment will see it lovingly restore, brought back to its original use as a residential property and contribute to the continuing redevelopment of Leith."
Back to February 2008