Glasgow City Council commits to 25,000 new homes by 2025
August 10 2015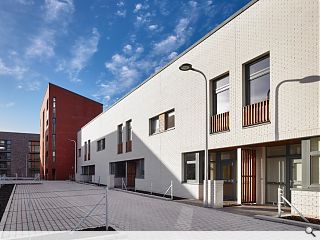 Glasgow City Council has committed itself to constructing 25,000 homes by 2025 in partnership with the public and private sectors as part of its People Make Glasgow Home housing strategy.
This strategy will see council-owned land released for the development of affordable homes as well as self and custom-built housing, additional help for first time buyers seeking mortgages and the conversion of empty shops into housing.
Twenty sites have already been identified in areas including Castlemilk, Drumchapel and Easterhouse in the first year of the programme with the council also piloting private rented sector partnerships.
Priority will also be given to the canal corridor around north Glasgow< South Nitshill, Dalmarnock and Laurieston for the delivery of new homes.
Council leader Gordon Matheson said: "While the under-supply of housing is a national concern, we are determined to ensure Glasgow is at the forefront of tackling the issue, and will consider all feasible options for doing so."
Housebuilding in Glasgow remains below pre-crash levels with just 1,179 private houses currently under construction in the city; significantly less than the 1,500 built every year in the early to mid-2000's.
Photograph by Andrew Lee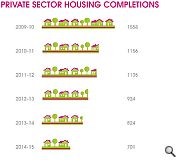 Private sector housing completions have fallen steadily since 2009
Back to August 2015