Dundee's Murraygate to welcome new infill retail
July 15 2015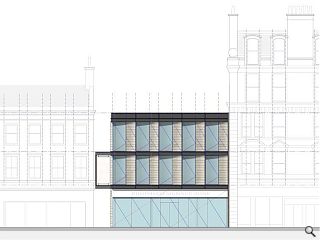 Plans have emerged for the
reconstruction of fire damaged retail premises on Dundee's Murraygate
, within the city's Central Conservation Area, including a rear extension to one of the area's few remaining wynd's.
Designed by 3DReid Architects on behalf of The Northumberland Estates the scheme will be clad in thin faced stone panels, with recessed fritted and clear glazing and structural steel beams the scheme aims to replicate the classical proportions of neighbouring properties in a contemporary manner.
In a design statement the architects noted: "As the detailed investigation of architectural form and detail progressed it became apparent that a relatively consistent proportion could be obtained from the windows, the intervals between them and from the overall built form. Not unexpectedly, this fell into the classical golden section of 1 over root 2, approximately a diagonal of 58 degrees. This was employed as the means of ordering the elevation in both the whole and in its parts."
The rebuilt property will stretch to three storeys and basement offering 12,200sq/ft of space.
Back to July 2015