Plans submitted for Gorbals Health Centre
July 8 2015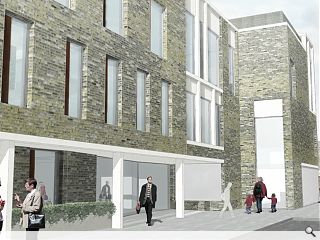 Plans have been submitted for the erection of a new health and care centre in the New Gorbals district of Glasgow by JM Architects.
Situated on Crown Street
Gorbals Health Centre
will re-establish a perimeter block and house NHS services, GP surgeries, social services, community space and treatment rooms finished with precast concrete, textured brick and Western Red Cedar window openings.
In their design statement the architects noted: "The building parapet level is designed to line-through with Page\Park's housing association offices and the building lines are aligned with both this and the immediately adjoining housing blocks.
"A key idea of the design is for clarity of way finding. This is achieved primarily by the use of a large slow stair located just at the point of entry which runs through a three level void. The stair runs parallel to the courtyard garden and is configured to slowly climb through the building with a number of landings, stops and resting places."
Situated between the fingers of the 'E' plan will be twin courtyard spaces with surrounding elevations punctured by the maximum amount of glazing to enhance the relationship between internal and external environments.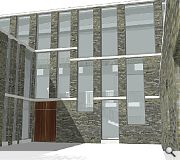 Glazing use will be maximised on internal facades to improve the patient experience
Back to July 2015