Splash arrive in Scotland
February 7 2008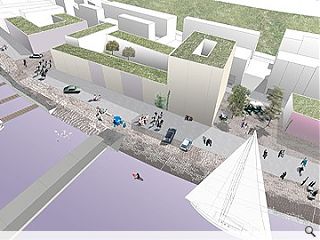 Urban Splash and Reiach and Hall have won the Irvine Harbourside competition to identify a development partner for Irvine Bay URC for its 11-acre waterfront site. This will be Urban Splash's first project in Scotland. At the end of last year the developer, who is based in the North West of England, was one of the favourites to win the Bellgrove developer led-competition in Glasgow, but was beaten by Dawn. The Irvine harbourside project is expected to cost about £30million.
The Urban Splash/Reiach and Hall scheme was selected following final presentations by Urban Splash and developer Bank who were working with gm+ad on proposals. Urban Splash/ Reiach and Hall's winning scheme provides a flexible development framework rather than a finalised architectural solution. Proposals for a residential led, mixed-use development include some commercial premises and leisure facilities adjacent to the harbour district of the town and are relatively low density compared to the Bank proposals.

The design component of the bid was judged by a panel made up of Brain Evans from A+DS, Nick Barley from the Lighthouse and David Page and John Gilbert, who provided environmental expertise, plus local officials. The financial element of the bid represented 30% of the evaluation. Bank and Urban Splash were selected from a shortlist which included Miller Homes working with Fraser, Brown McKenna and Dignan Read Dewar and Places for People with jm architects.
Irvine Bay is one of five Scottish urban regeneration companies, established by the Scottish Government. Its partners are North Ayrshire Council, Communities Scotland and Scottish Enterprise Ayrshire. In a ten year masterplan, Irvine Bay aims to regenerate the five North Ayrshire towns of Irvine, Kilwinning, Ardrossan, Saltcoats and Stevenson through a £100 million investment programme which seeks to help bring more jobs, housing and leisure facilities to the area.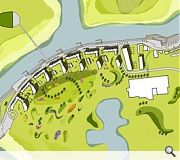 GM+AD Proposal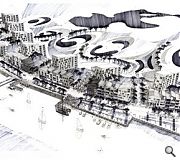 GM+AD Proposal
Back to February 2008