HFD press ahead with Bothwell Exchange office plan
July 2 2015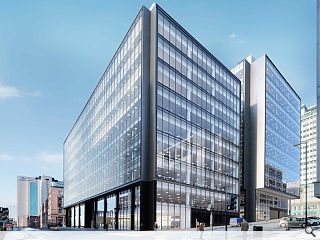 HFD Property Group has submitted plans for a
150,000sq/ft office development at 122 Waterloo Street
as part of their wider
Bothwell Exchange masterplan
to capitalise on burgeoning demand for office space in Glasgow.
Sitting behind a unitised glazed façade on three sides, with a dark grey metal panel rear, the buildings depth is dictated by a desire to extend the lanes off Pitt Street and Douglas Street to allow entrance and egress from an underground car park.
Above this a courtyard garden, for sole use by occupants, will be incorporated, enveloped by a proposed hotel and residential accommodation which will be subject to a separate application.
In their design statement Michael Laird Architects noted: "The proportions of the façades work to reinforce the famous Glasgow Grid iron pattern on the southern edge of the site at Waterloo Street and create clear strong edges which powerfully define the city block.
"The depth of the building is determined by two factors; the reproduction of the lanes off Pitt Street and Douglas Street and the floor plate necessary to create 150,000sqft of net office space in the building.
"As it is likely that the development of the remaining site up to Bothwell Street will maximise the use of the plot, the design of the building will provide the core spaces to the north and centre of the building to permit maximum views out of the building."
A ground floor overhang will allow a widened expanse of public realm to be created at street level, allowing an existing cycle lane to be retained alongside an upgrade of paving and street furniture to the standard set elsewhere in the IFSD.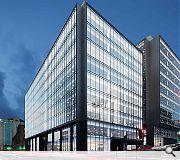 Michael Laird aim to bridge the differing scales between Glasgow's Victorian core and modern high rises by the M8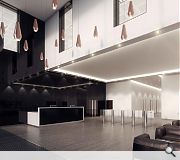 The scheme will eventually occupy a full city block
Back to July 2015