Carlton Hotels to occupy four star Edinburgh development
June 22 2015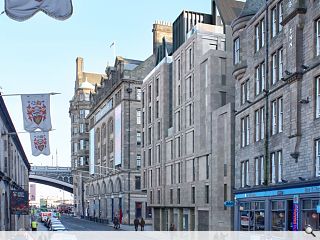 The EDI Group has partnered with Carlton Hotels to bring forward a
98-room venue on Edinburgh's Market Street
, plugging a long-standing gap site in the heart of the Old Town.
A four-star boutique hotel is planned for the site, designed to sit in harmony with its Scottish baronial neighbours through vertical features and a solid façade of Hazeldene stone.
In a statement JM Architects said: "The patterns of place and architecture within Edinburgh's Old Town have been determined by many different factors throughout the life of the city, which have, in turn, generated an enormously complex urban condition. In understanding this DNA, we believe we have created a site specific response to these historic patterns and processes which celebrate the unique qualities of the Old Town.
"The design is intended to be non-invasive and respectful of its neighbouring buildings while at the same time unapologetically of its own time and culture. An evolution of its context and truly indigenous."
Uncoursed stone walling to the north will be reclaimed from the existing site and seeded in over-sized joints with wall ferns, a feature which the architects state will create a micro-climate when colonised by mosses to form a natural green wall.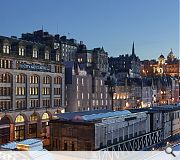 An upper level lounge area will be housed within a feature, folded roof form, offering panoramic views of the city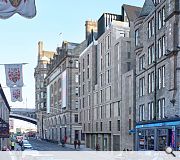 Loading and drop-off bays will be treated as a shared surface space off Market Street
Back to June 2015