RIAS honour a dozen projects at annual awards
June 18 2015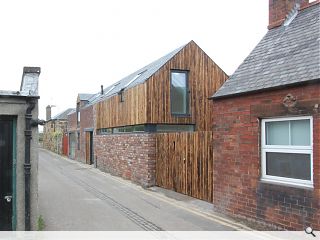 The Royal Incorporation of Architects in Scotland has honoured 12 projects as representing the best of contemporary architecture at its annual awards.
Whittling down 65 entrants
to arrive at their chosen dozen the judging team settled upon Malcolm Fraser's 'welcoming' Arcadia Nursery (Edinburgh); Archial Norr's 'elegant' Dalmunach Distillery (Moray); Marcus Lee/FLACQ and cameronwebster's 'luxurious' Highland Steading; Groves Raines for their restoration of the 'rare' Lamb's House (Edinburgh); Page\Park & Elder and Cannon for their 'fitting' Laurieston housing (Glasgow) and Reiach and Hall for their 'modest' Maggie's Lanarkshire.
Elsewhere WT Architecture were recognised for their 'durable' Peebles Steading home; Konishni Gaffney took to the stage to pick up a gong for their 'elegant' regency Dormer extension (Edinburgh) and A449 were acknowledged for their 'restrained' residential work at Rosefield (Edinburgh).
Other winners on the night were Anderson Bell + Christie with the 'bold' Shields Centre (Glasgow); Page\Park's 'sinuous' Theatre Royal (Glasgow) and Sutherland Hussey's 'graceful' West Burn Lane housing (St Andrews).
Of these five were awarded a RIBA Award for Scotland namely; Arcadia Nursery, Dalumunach Distillery, Laurieston, Maggie's Lanarkshire and West Burn Lane.
All 12 projects will be considered for the RIAS Andrew Doolan Best Building in Scotland Award, to be revealed in November.

RIAS Awards 2015 winners:
Arcadia Nursery
, Edinburgh
Malcolm Fraser Architects for The University of Edinburgh
"Three playrooms are linked together by a single-storey building, with a large roof light offering views up to the tree canopy. A first floor area contains offices, staff and family rooms. Each of the playrooms opens out to a covered terrace.
The timber structure provides the perfect combination of warm, tactile, welcoming interior, whilst also being a natural, sustainable material."
Dalmunach Distillery
, Moray
Archial Norr (Inverness Studio) for Chivas Brothers (part of Pernod Ricard)
"Elegantly addressing the functional requirements of a contemporary distillery, this building also draws upon the rich history of such buildings.
The use of a traditional series of pitched roofs reflects tradition, while resolving functional issues. Salvaged materials are elegantly incorporated within the new entrance."
Highland Steading
Marcus Lee/FLACQ and cameronwebster architects for a private client
"Commanding long views, the building adapts an existing steading to create luxurious living with service accommodation onto the rear courtyard.
A reinterpretation of the historic hunting lodge, the new house utilises the level change to create a distinction between the luxurious living spaces to the front and the service accommodation to the rear."
Lamb's House
, Edinburgh (contract value: £2,000,000)
Groves-Raines Architects Ltd for Groves-Raines Architects
"This rare survivor has been carefully restored from near dereliction and returned to its original usage, accommodating a business and home. Modern floors, ceilings, doors and windows were replaced using materials and techniques suitable to a Category A listed building.
The essential character of this, now fully restored, historic, 17th-century Leith town house is elegantly restored."
Laurieston Transformational Area
, Glasgow (contract value: £22,260,000)
Page\Park Architects and Elder and Cannon Architects for New Gorbals Housing Association
"Reinterpreting the traditional Glasgow tenement, these blocks, fittingly urban in scale, provide high quality homes, close to the heart of the city.
These affordable-rent homes in a layout of streets and mews in Laurieston build on the urban character of Glasgow, comprising clearly-defined blocks to reinforce the grid."
Maggie's Lanarkshire
, Airdrie (contract value: £1,800,000)
Reiach and Hall Architects for Maggie's Cancer Caring Centres
"This building offers a respite from the clinical atmosphere and built form of the nearby hospital.
Visitors enter a quiet arrival court, defined by low brick walls and two lime trees. A sense of dignity and calm prevails. External courts catch sunlight within sheltered "sitooteries." This modest building gathers a sequence of domestic-scaled, contemplative spaces."
The Mill
, Southside Steading, Peebles
WT Architecture for a private client
"An old mill in the Borders has been converted into a stylish holiday home, retaining much historic character.
Spaces are utilitarian and durable. The timber home slots into the existing structure, rising above the original wall head with a clerestory from which light spills down. The stepping of the building introduces half levels."
Regency Dormer
, Edinburgh (contract value: £32,000)
Konishi Gaffney Architects for a private client
"Challenging more traditional approaches, this low profile dormer window, elegantly detailed, transforms the home.
Conservative planning rules and a lack of headroom were overcome to extend a first-floor flat into a loft and create a new bedroom. After long negotiations a long rear dormer, clad in anthracite zinc by French artists, was agreed."
Rosefield
, Edinburgh (contract value: £166,564)
A449 LTD for Format Scotland Ltd.
"Respecting the utilitarian aesthetic of this former stable/coach house, this adaptation utilises a restrained palette to create a new family home. Respecting the building's character was a priority with minimal alterations to the principal elevation.
Timber cladding distinguishes new elements, charred for longevity and reflecting the historical use of the site as a coal merchant's yard."
The Shields Centre
, Glasgow
Anderson Bell + Christie Architects for hub West Scotland
"Combining two medical practices with other social service provision, this building signals its presence with a brick-classical colonnade onto the street, a bold public presence in an urban landscape.
The design reflects the warm sandstone of nearby tenements. Privacy to clinical rooms behind the colonnade is provided by intricate Corten steel panels, by artist Alex Hamilton."

Theatre Royal
, Glasgow
Page \ Park Architects for Scottish Opera
"Creating a welcoming entrance foyer and embracing a dramatic, sinuous stair, this new structure boldly signposts Scottish Opera's HQ.
"Street to seat" was the ethos, with the client wanting to literally "open up" theatre and opera as art forms. By providing a welcoming entrance, addressing the street corner, the theatre experience has been "democratised"."
West Burn Lane
, St Andrews
Sutherland Hussey Harris for EASTACRE Investments LLP
"Following St Andrews' historic 'rigg' pattern, this new development is a graceful and intelligent insertion within one of Scotland's finest historic urban environments.
Careful in scale and utilising materials of the highest quality, this unobtrusive contemporary housing development is set in a conservation area, embracing a series of public and private courtyards."
Back to June 2015