Finnieston flats plan drawn up
June 8 2015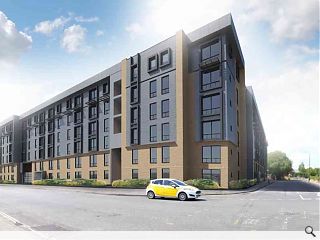 Progressive Residential have
submitted plans drawn up by B3 Architects
for the creation of 189 flats at Minerva Street, Glasgow, taking the form of a new 'urban block'.
Seeking to draw the west end grid south through Finnieston, where it currently fragments, it will take the form of two L-shaped blocks enveloping landscaped amenity space and parking above existing railway tunnels which preclude development.
Rising to seven and six storeys these builds will be accessed by a two storey 'gateway' carved through the north block for vehicles and pedestrians.
In their design statement B3 noted: "The design form of the proposed development effectively encloses an urban block with semi-private defensible spaces within as in the tenemental model.
"Decorative panels will provide partial definition and enclosure to the social spaces and will also be a compositional device to add visual articulation and texture to the inner block elevation.
"By constructing an L-shaped block (North Block) to the north and east of the site largely following a building line defined by the site geometry, a new urban block form is created. Following the elegant corner sweep of the adjacent
7 storey Bell Orr development
at the corner of St Vincent Crescent and Minerva Street, the urban context is repaired and extended to the south with a confident statement of architectural and urban intent."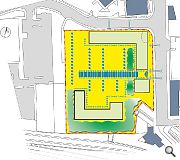 Construction is constrained by the presence of twin railway tunnels below ground
The scheme will take the place of low-rise commercial units
Back to June 2015