Portobello Pier concept treads new ground
June 4 2015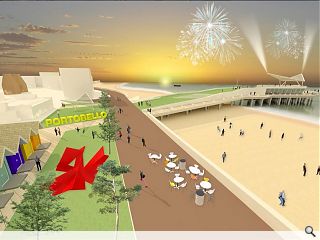 Smith Scott Mullan Architects have unveiled concept designs for a 21st Century pier at Portobello, Edinburgh, a kite-flying initiative to see a contemporary take on the Victorian original, which burned down a century ago, 're-a-pier'.
Commissioned by Big Things on the Beach, a charity promoting public art in Portobello, the walkway could double as a performance and events space off Pipe Street, offering beachgoers enhanced facilities such as a café, meeting rooms and sports facilities, one of a number
The vision is intended to spark a debate about maximising leisure and cultural opportunities along the seafront with the charity investigating the viability of a number of 'significant developments; along the waterfront.
SSM associate Graham Acheson, himself a trustee of the arts body, commented: "The overall plan is for something iconic and contemporary. I think it's one way of provoking conversation about that as a possible waterfront for the city – it's about making the most of that as an asset.
"There are various organisations within Portobello that could make use of the pier. The initial feedback on the overall idea of improving the prom and possibly [building] a pier has been positive."
Damian Killeen, from Big Things on the Beach, added: "I think there's no doubt there would be strong support in Portobello and probably beyond for the idea of recreating a pier – especially a contemporary pier – something that would be a major visitor attraction.
"From this point on, we will be looking at what the development possibilities are for some significant development on the promenade."
It is hoped that backers can be found to make the concept a reality, including City of Edinburgh Council which owns the promenade.
Back to June 2015