Former Dundee College to make way for 'liveable' homes
May 28 2015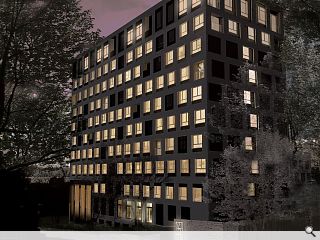 Plans to convert a
former Dundee College of Commerce building
into 110 flats, workspace and a café have been submitted by Whiteburn Properties with the aim of creating a mixed use community on the city centre fringe.
Working with the existing structure architects Keppie Design will over-clad the existing concrete structure with a new air-tight façade, taking the form of a rendered mesh grid skin that remains true to the towers roots.
This allows concrete to be exposed internally whilst improving thermal performance whilst varying treatments at the painted brick base and top for visual effect. Mesg grid openings will be filled with mosaic tiles, windows or both with some taking the form of balconies.
In their design statement Keppie state: "In the same manner as a classical column, the proportions of the tower are enhanced by increasing the opening size of the mesh at the bottom, providing a base or plinth and at the top to provide a cap or entablature.
"The increase at the lower level also provides visibility from Commercial Road for the commercial activities, such as cafe, within the podium."
Described as a 'liveable' building it will contain its own gym, lounge, cinema and laundrette, set amidst landscaped grounds in an attempt to draw residents away from sprawl developments taking place on the city outskirts.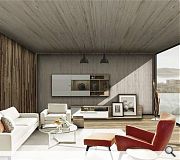 Concrete walls will be exposed internally to highlight the building's heritage
Residents will benefit from expansive views across the city
Back to May 2015