Glasgow land sale to clear the way for mixed-use infill
May 26 2015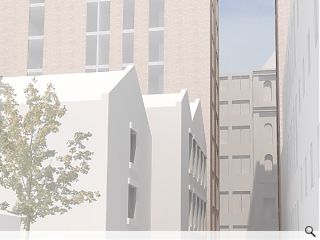 Glasgow City Council looks set to continue with its policy of disposal with unused assets with the sale of land at George Street and John Street to make way for 59 serviced apartments, 375 student flats and 23,688 sq/ft of commercial space.
Councillors are recommending approval of the sale of the plot to Chris Stewart Group for £5.1m as the developer aims to replicate the success it has enjoyed in Edinburgh with its first Glasgow project.
Gareth Hoskins Architects propose to drive a new lane connecting John Street to North Frederick Street off which would be built a 10 student housing block on vacant ground, as well as a converted A-listed office block and stables and two garages.
Several unlisted buildings will also be demolished.
A spokesperson for The Chris Stewart Group observed: "This is an exciting development opportunity with the prospect of delivering a unique city centre environment.
"By harnessing the potential of the existing listed buildings and creating a new lane with its own identity, our plans are to open up the area for everyone to enjoy."
This comes in tandem with the
proposed sale of land at Park Circus
for residential use, with City Property Glasgow also currently advertising a
half hectare site at 20 India Street
for sale following the clearance of existing buildings in late summer.
Plan of the proposed George Street complex
Back to May 2015