Holmes Miller in line to complete Park Circus vision
May 25 2015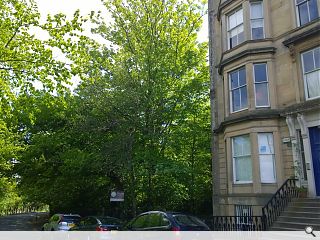 Holmes Miller Architects could be handed the job of completing Charles Wilson's Park Circus vision after Leeds based developer Espresso Property emerged as front runner to purchase the last unbuilt plot of land at Park Quadrant.
Glasgow councillors will decide on Thursday whether to sanction the £6.3m land deal, clearing the way for 111 flats over six storeys, with a landscaped parking deck underneath, on the site of what has become mature woodland.
Opting for a contemporary interpretation of its classical surroundings Holmes Miller's design is said to employ blonde sandstone to the front and gable elevations, respecting the curvature and scale of the existing quadrant.
Rear elevations would be faced in stone rainscreen with roofspaces given a contemporary flavour by way of feature rooflights clad in slate and zinc.
A
council report noted
: "Bay windows are proposed on the front and gable elevations with the fenestration ordered with vertical emphasis and the south facing rear elevations featuring balconies. High quality boundary treatment is proposed with stone and ornate metalwork on the Park Quadrant boundary and stone to the rear lane. Entrances to the flat closes feature double height pre-cast stone with decorative metal work detailing."
The scheme follows the collapse of a
2006 Stewart Milne and Page\Park bid
for the site amidst onset of the financial crisis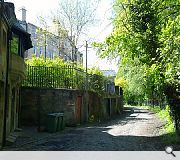 Vehicular access would be offered by way of an upgraded Park Circus Lane to the rear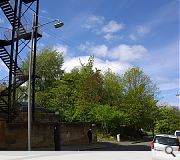 Eleven bids were received for the prized land in total, each of which was scored via a custom metric weighted at 60 per cent planning and design with the remainder based on net price.
Back to May 2015