£50m 'Scots Baronial' style hotel wins planning
May 14 2015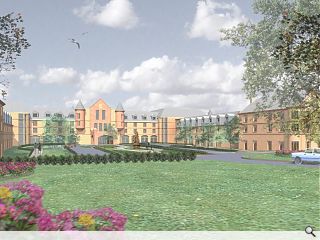 A 200-bed five star
'Scottish Baronial' style hotel
has received planning consent from Aberdeen City Council, clearing the way for developer Castle Rock to begin work on the £50m scheme on green belt land at Hazlehead Park.
Finished with extensive areas of harling the BMJ and TGP landscape architects designed build incorporates two banqueting halls catering for up to 350 guests apiece with a limited amount of decorative stone elements and slate pitches to roof areas visible from the ground.
Situated close to a former farm steading, which will be retained, the hotel will benefit from addition of a new equestrian centre replacing existing facilities with a spectator gallery, stable block, shop and café.
In their design statement BMJ said: "The hotel design places an emphasis on the Scottish Baronial with the use of traditional design and natural materials. The façade aesthetic has been developed to a level which establishes the quality of detail, craftsmanship and materiality to justify a development of this nature in this particular location."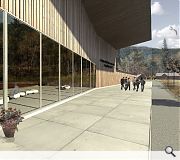 A new equestrian centre will replace the existing Hayfield Riding School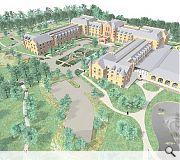 The hotel has been reduced in size from 250 bedrooms amidst concern over its scale
Back to May 2015