BRE Innovation Park to host green homes showcase
May 6 2015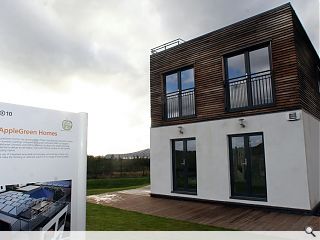 BRE Innovation Park
in Ravenscraig has been chosen as the venue for a green homes showcase organised by Home Energy Scotland to look at energy efficiency standards in social housing.
Taking place within the context of more stringent standards set by the Scottish Government for private sector properties and social landlords, the latter of which will be implemented by 2020, it will give landlords and homeowners an overview of what is required to remain compliant.
Dr. David Kelly, group director BRE Innovation Park Networks commented: "The BRE Innovation Park acts as a testing ground for the future accommodation needs and energy requirements for Scotland, with house types which incorporate cutting edge, innovative design and technology, making it the ideal venue for hosting an event of this type."
During the event tours will be offered of several completed properties on the site, including a recreation of a traditional four-in-a-block home, refurbished to meet the new standards and Applegreen's energy efficient home built using off-site construction methods.
Back to May 2015