University of Edinburgh submits School of Biological Sciences master plan
April 20 2015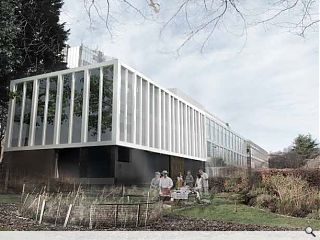 The University of Edinburgh is to press ahead with the redevelopment of its
School of Biological Sciences
to create a new research hub with the submission of plans for the first phase of development work.
This has seen Fielden Clegg Bradley, in partnership with Ostick and Williams, draw up plans for an extension to the existing Waddington building to allow plant growth staff and facilities to be decanted from the nearby Darwin Tower, ahead of the latter's own redevelopment.
This will be joined by a separate structure housing mechanical and electrical plant to service the expanded campus.
In a design statement the architects noted: "The aim of the University and SBS is to create a world class research environment with strong internal connectivity, an open front door and excellent technical facilities.
"The existing lines of the Waddington building have been extended to form the footprint of the extension and allow the green buffer zone to remain intact. The extent of the building to the south is defined by the requirement of the access road to pass by the substation and for sufficient space for an external terrace and steps."
A total of five buildings will be delivered under the master plan, all of which will have a ground floor 'plinth' to iron out level differences across the site.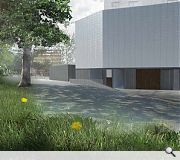 A separate plant building will also be built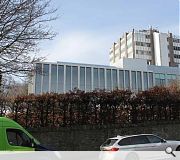 Vertical emphasis is lent by extending glazing over two floors
Back to April 2015