Calton Hill observatory to be transformed into arts base
April 15 2015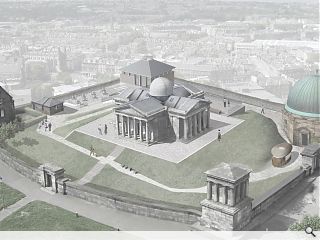 Visual art organisation Collective has unveiled its vision for the redevelopment of the
City Observatory complex
atop Calton Hill, Edinburgh, transforming the former seat of science into a £3.5m headquarters and gallery space.
Designed by William Henry Playfair as an astronomical eyrie the hilltop complex was once at the heart of the Enlightenment but now languishes on the Buildings at Risk Register, fuelling Collective's desire to bring the area back to life.
To that end Malcolm Fraser Architects have been brought on board to conserve and reinstate the 19th century landmark and its grounds whilst constructing a subterranean gallery space. A restaurant will be situated in a corner pavilion to take advantage of expansive views across the Old and New Towns.
Malcolm Fraser said: "We love thinking about how artists will use this site and believe that the creative interaction between art and science, that the Collective's rejuvenation of the site brings, is visionary and exciting. Art might just deliver something forward-looking for astronomy that is thrillingly-complementary to the site's history.
"Our concern has been with the evolution of the site. Robert Adam urged James Craig – architect for the New Town and the site's first designer – to consider it as a fortified enclosure with towers at its corners. Playfair's temple precinct magnificently advanced that vision, except at the north-west corner, where the site breaks down into minor buildings.
"We propose a Pavilion there, engaging the wall and with inspirational views out over Edinburgh to the Forth Bridges and back to Playfair's temple. The Pavilion also encloses a west lawn, for sitting out, and a court to the north, edged by a new Gallery which is set into the hill, with a terrace over. We repair the whole site, recovering the subdivided interior of Playfair's main building and setting all within rising, spiraling paths."
Two open days will be held within the recently refurbished City Dome on 17 and 18 April with works moving on-site by the end of the year for completion by 2016.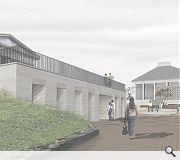 calton Hill is one of Scotland's first public parks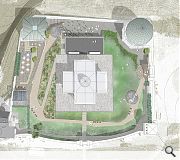 New display and interpretation panels will communicate the history of the site and its collection of astronomical instruments to the public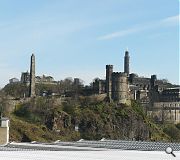 Whilst Collective has raised the majority of the cash it needs fundraiaing is still ongoing to realise its vision
Back to April 2015