Ocean Terminal extension set for £6m extension
April 14 2015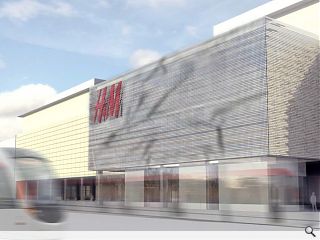 High Street fashion chain H&M has been confirmed as anchor tenant of a £6m extension to Edinburgh's Ocean Terminal shopping complex.
Resolution Property is undertaking a refurbishment and extension of the complex, designed by Keppie, as part of a site master plan that will include creation of a waterfront walkway, as well as new homes and a hotel.
To accommodate H&M existing stores will be combined to create a 22,000sq/ft unit, with staff facilities located above. This will be screened from the road by an articulated metal façade intended to unify these two elements.
In their design statement Keppie said: "The existing building is almost entirely disconnected from the public domain. The overhang to the entrance, the strong tree line, and the lack of visual connection to the interior are redolent of an out of town retail centre.
"The new extension develops a more affirmative relationship with the street, coming out from the shadows of the overhang, providing a new entrance and visual connectivity with the interior."
This work is intended to arrest a decline in turnover and footfall at the centre by diversifying its offer to include more restaurants and a more pleasant environment.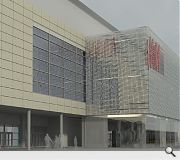 The extension will also play host to a new entrance space
Back to April 2015