National Grid builds trial T-Pylon transmission line
April 9 2015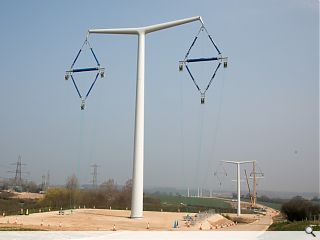 The National Grid has built a test network of five variants of the
RIBA competition winning T-Pylon design
, designed for use in the next generation of UK power transmission lines, to develop the concept further prior to their introduction around the country.
This is the first time that Danish architecture firm Bystrup's design can be assessed at first hand, ensuring that they can withstand the worst that the British weather can chuck at them.
David Wright, director of electricity transmission asset management at National Grid said:"We've been able to answer yes to the hundreds questions that need to be asked before we can introduce a new type of pylon. The training line has enabled us to learn so many lessons about how to manufacture and build the T-pylon. I'm incredibly proud of the high standard of engineering that brought us to this point"
"We developed the new style of pylon so that we could have a 21st century design to offer as we plan new transmission routes. The T-pylon is not a replacement for the steel lattice pylon but it's a new option and in some landscapes its shorter height and sleeker appearance can offer real advantages".
Each 35m tower is up to a third lower than the conventional steel lattice towers which have snaked across the countryside carrying high voltage cables since the 1920s.
Balfour Beatty carried out the ground works, foundations and erection of the test range at the National Grid's Eakring training academy, Nottinghamshire.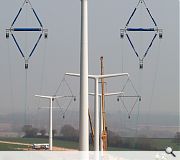 Different pylon designs will be used for turning corners and anchoring cables to the ground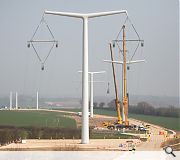 The new generation pylons are designed to be less intrusive on the landscape
Back to April 2015