Funding approved for detailed Burrell design development
April 8 2015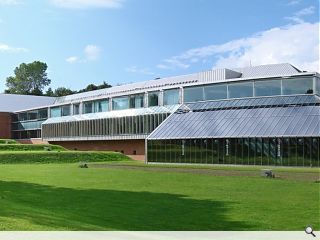 Glasgow City Council has committed itself to provide up to 50 per cent of the estimated £60-£66m funding required to deliver a full refurbishment of the city's Burrell Collection, the roof of which has
sprung a number of leaks in recent years
.
Included in this cash is a £5m lump sum to allow detailed design development to begin; including intrusive surveys and additional refinement of exhibition designs.
Master planned by museum and attraction specialists Event Communications the revamp will deliver much needed repairs to the A-listed building, whilst also expanding available display space to make room for more than 90 per cent of the 9,000 object strong collection.
Work will also open up public access to basement store areas and a new access core will be inserted to improve circulation. Improved café and retail facilities will also be offered alongside an events space within the museum grounds.
Sir Peter Hutchison, who chairs the Burrell Trustees, said: "The trustees very much welcome the forthcoming refurbishment, which will transform the Burrell building and provide a fitting context for this extraordinary collection. New gallery space will be created, a wider range of objects displayed, facilities upgraded, and any structural defects, such as the roof, remedied."
The remainder of the capital costs will be secured from the Heritage Lottery Fund, fundraising and public grants which, if successful, would see the existing museum close in early 2016 through to 2019.
Back to April 2015