Dandara to re-work Aberdeen's Triple Kirks as student housing
March 26 2015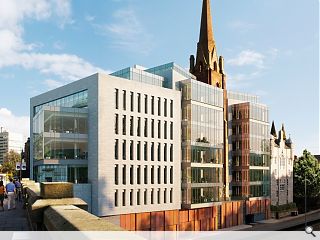 Developer Dandara has announced that it is to re-work a
planned £20m office development on the site of Aberdeen's Triple Kirk's
to make room for more student accommodation in the city.
As such a new proposal of application will be made for the prominent scheme, for which site enabling works have already taken place, based on the existing consent.
Neil Young, commercial director at Dandara, said: "Changing The Point from a Grade A office to academic accommodation has been driven by market cycles.
"The commercial property market remains strong in Aberdeen and we continue to invest heavily in commercial development throughout the region. Within the city core however the dynamic has changed with a significant amount of office development is under way.
"Our flexibility and market-leading capability as a premium housebuilder has allowed us to review our plans and re-approach this iconic site to deliver a development that will benefit the city."
Tenants had been actively sought for the Halliday Fraser Munro designed build but Dandara will now focus its letting efforts on the City South Office Park.
Back to March 2015